Vivekacūḍāmaṇi – The Crest-Jewel of Discrimination 
Saturdays at 8:30 AM Pacific Time
Vivekacūḍāmaṇi, the Crest Jewel of Discrimination, is a popular book of Advaita Vedanta.  Through a dialogue between the spiritual seeker and teacher,  Ādi Śaṅkarācārya unfolds the deeply personal and transformative vision of one's inherent freedom as taught by the sages of ancient India.
Gently but systematically guiding the student through an exploration of the truth of oneself, the world, and the Sacred, the guru reveals the cause of suffering and the means to gain freedom from it.
The text is intended for one seeking Mokṣa – the removal of erroneous self conclusions which lead to endless struggle in one's life, and gaining the direct recognition that one is even now what one seeks to become.
Saturdays, 8:30 – 9:30 AM Pacific Time
Sessions are held Online and at Arsha Drishti in San Diego
Primary Texts
Download Main Text (v 0.6.3) – 108 Selected Verses – Devanāgarī, Transliteration, & Pujya Swami Dayananda's Translation
Class Chants – Devanāgarī & Transliteration
Supplementary  Texts
Full Text  – Devanāgarī  & Translation
Full Text – Devanāgarī  & Transliteration 
---

Kaivalya Upaniṣad – The Vision of Oneness 
Final Kaivalya Upaniṣad class: February 9, 2017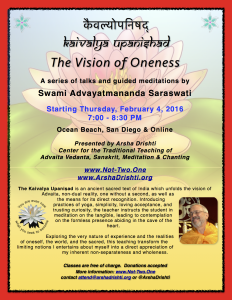 The Kaivalya Upaniṣad is an ancient sacred text of India which unfolds the vision of Advaita, non-dual reality, one without a second, as well as the means for its direct recognition. Introducing practices of yoga, simplicity, loving acceptance, and trusting curiosity, the teacher instructs the student in meditation on the tangible, leading to contemplation on the formless presence abiding in the cave of the heart.
Exploring the very nature of experience and the realities of oneself, the world, and the sacred, this teaching transform the limiting notions I entertains about myself into a direct appreciation of my inherent non-separateness and wholeness.
Each class begins with a guided meditation.
Thursdays, 7:00 – 8:30 PM Pacific Time
Meditation begins at 7:00; Class starts immediately following
Download Text  Word-for-word translation by Swami Paramarthananda 
Classes are held Online and at Arsha Drishti in San Diego
Class and meditation builds upon the material presented in the previous sessions, so please try to be consistent in attendance.  No registration or prior knowledge of Sanskrit is required.  Please arrive online early the first day to ensure you have time to connect to the virtual classroom. 
---
Bhagavad Gītā Study Groups
Bhagavad Gītā Vicāra
Weekly Gītā study group using Pūjya Swami Dayananda's Gītā Home Study Program.
Sundays 11:00 AM -12:30 PM Pacific Time
Location can vary week to week, so please email Swamiji@ArshaDrishti.org to get location or ATTEND ONLINE
Wednesdays 6:30 – 7:30  PM Pacific Time
 Email Swamiji@ArshaDrishti.org for details
---
---
All classes are open to everyone and free of charge.