Swami Viditatmananda Saraswati was warmly received by devotees and students during his recent visit to San Diego.  Nearly 150 sādhaka-s (spiritual aspirants), including a number of long-time students attended Swamiji's talks and met with him to receive his blessings.  The display of love and respect with which he was welcomed was heartwarming, and reflects the deep value that the San Diego community has for the Vedic teachings and tradition.
Swamiji presented two beautiful, thought-provoking discourses, each of which was followed by an engaging question and answer session.  You can download or stream the audio or watch the videos above.
In addition, during his brief stay a pādapūjā for Swamiji was performed by a devotee at his home, and later that day another devotee offered a lovely bhikṣā at her home.  The parents of both of these devotees have been serious students of Pujya Swami Dayananda for decades, and introduced their children to Swami Viditatmananda at a very young age.  It is beautiful to now see these new parents introducing their own young children to Swamiji and exposing them to the teachings and values of Sanātana Dharma.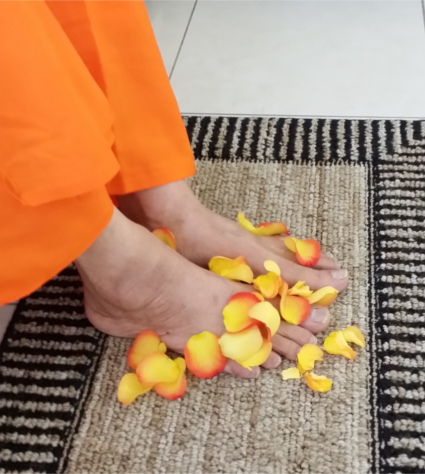 We would like express our deepest gratitude to Swamiji for rearranging his busy travel and teaching schedule to bless us with his gentle presence and words of wisdom to guide us along our spiritual journey.  We would also like to express our heart-felt thanks to the  hard-working volunteers, host, and venue coordinators who together helped make Swamiji's visit such a beautiful and successful one.