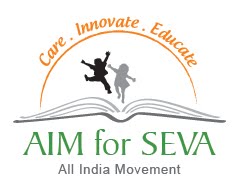 Antar-Yatra
The Journey Within
San Diego, California – November 12th, 2017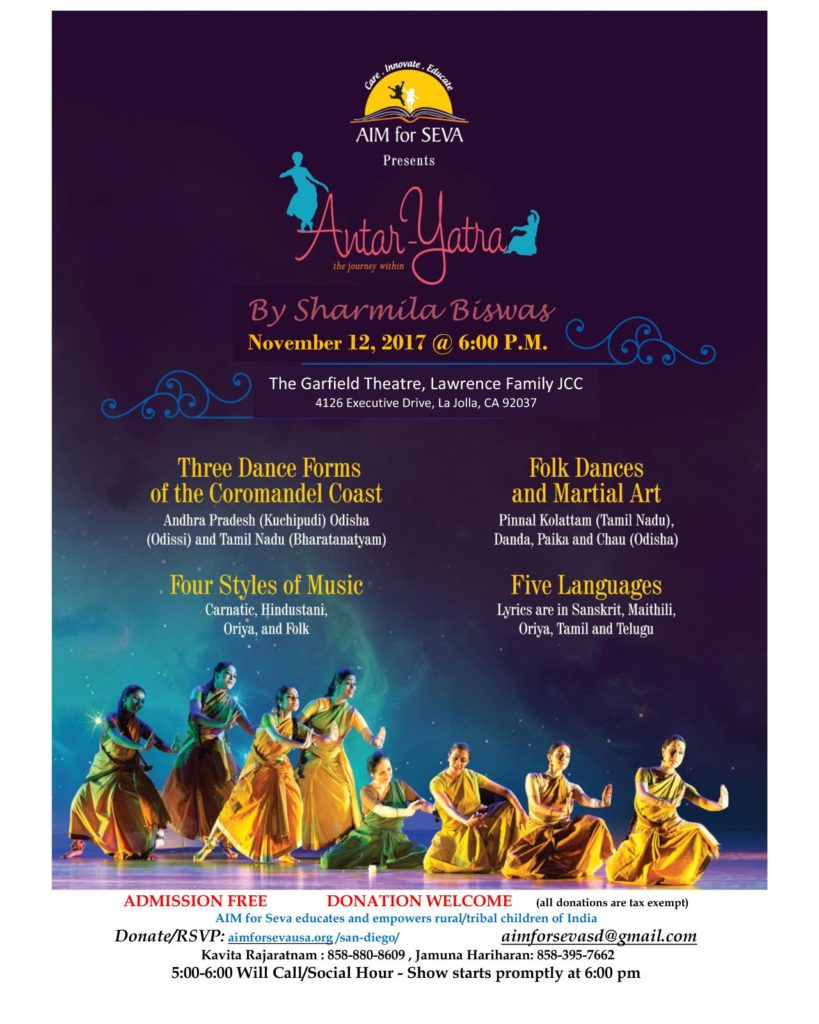 Antar-Yatra, The Journey Within is choreographed and directed by Indian Classical Dancer, Sharmila Biswas, the founder of Odissi Vision and Movement Center, Kolkata. Sharmila Biswas will be accompanied by her talented troupe.
The All India Movement (AIM) for Seva (Service) is an integrated community development program founded by Pujya Swami Dayananda reaching out to rural and tribal children across India.
You are cordially invited to celebrate AIM for Seva 2016 successes and we humbly ask for your support to continue educating the children and finishing the construction of the new girls' home detailed below.
When: 6:00 PM, Sunday November 12, 2017
Where: Garfield Theatre, Lawrence Family JCC
Address: 4126 Executive Drive, La Jolla, CA 92037 Map it.
Social Hour – 5:00-6:00 (Food available for purchase, proceeds to be donated to AIM for Seva).
Read More and Share on Facebook
---
A message from AIM for Seva Southern Calfornia Lead, Kavita Rajaratnan
Dear Friends and Supporters of AIM for Seva,
We are truly grateful for your generous contributions. Since its inception, AIM for Seva has educated 14,000 chatralaya students across 16 states of India. We are pleased to report that the pass rate of these children in public board exams is over 90%, a phenomenal achievement, thanks to the efforts of the children and the environment created by all those who care for these children! AIM for Seva has been awarded the Platinum Certificate by Guidestar India among 7,000 similar charitable organizations. AIM for Seva, USA achieved the top rating of FOUR stars from Charity Navigator, USA as well.
Projects Supported from the USA fundraiser in 2016:
Construction of 4 new Free Student Homes in Ghaziabad near New Delhi, Dimapur in Nagaland. Mehboob Nagar in Andhra Pradesh and Chunchunakatte in Karnataka.
Sponsorship of about 1500 children in 50 Free Student Homes across 10 states of India.
Construction of 16 class rooms for High Schools in rural India (Manjakudi & Kadalur).
Health care support to Shamlaji Hospital in Gujarat and Eye Hospital in Mathura
Establishment of scholarship funds for students in rural India
Projects Supported by San Diego:
2015 – Raised $50,000 and supported:

Girls' Free Student Home in Bidar, Karnataka
Boys' Free Student Home in Rothak, Haryana
New construction of the Boys' Free Student Homes in Sembangudi, Tamil Nadu

2016 – Raised $100,000 and supported:

Boys' Free Student Home in Rothak, Haryana
Girls' Free Student Home in Bodidra, Gujarat
Start of the construction of the new Girls' Free Student Home in Thennapattu Village, Tamil Nadu.

2017 – Fundraising Goal is $100,000 which will allow us to:

Continue our support of the Rothak and Bodidra Free Student Homes
Complete phase 1 of the new Girls' Free Student Home and start on phase 2. Each phase will be approximately 5000 sq ft. The Free Student Homes will provide a place for 120 girls to call home while they go to school.
Your donation of little as USD $450 will provide education, accommodation, food, extra tuition, after school support and extra-curricular activities for 1 year. If your company provides matching please take advantage of that so your impact can double.
Please feel free to contact with any questions regarding the projects and the show. We ask that you help us spread the word on the wonderful work being done by AIM for Seva and forward this email to friends and family. Please also use the Facebook event link to invite friends.
With Gratitude,
Kavita and AIM for Seva San Diego Team
kvraj64@gmail.com
(858)880-8609