Educating Rural India Through
Free Student Homes

A Dance Ballet for a Worthy Cause
Sundara Kandam –

 

a Signet of Hope
San Diego Event Report
by Devika Ashok
An Indian classical dance performance was held for the first time in support of the AIM for Seva organization in San Diego on 22nd August 2015. It was part of the ongoing 19-city USA tour to raise funds for the more than a 100 free student homes (FSHs) across India.  Started by Pujya Swami Dayananda Saraswati in the year 2000, AIM for Seva addresses the fundamental issue of the lack of access to high quality education for children from rural areas in India. By building chatralayas free residential student homes, AIM for Seva gives every child the opportunity to break the cycle of poverty and lack of education. With an impressive turnout for a first time event, San Diego raised over $50,000 dollars for this worthy charitable organization due in large part to the tireless work of Kavita Rajaratnam and her team of volunteers.
The program brought together about 200 individuals from varied walks of life – Bharatanatyam enthusiasts, AIM for Seva supporters, as well as those just curious about the performance and its beneficiary. A spectacular show was presented, brimming with creativity, beauty, and yet adhering to the traditions of the classical dance method of story telling.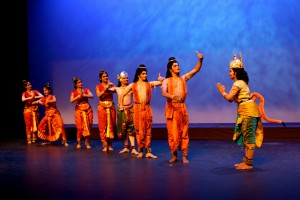 The choreography by Smt. Anita Guha was flawless and the bhāvas (emotions) were beautifully expressed by each of the 11 artists. Rama and Lakshmana entered as the curtain opened, and the anguish of the warrior princes was heart wrenching.  A beautiful varṇam ensued, explaining to Hanuman their journey thus far. A confluence of brilliant music and dance by energetic Hanuman soon followed  – the audience was in for a treat every second. Each vānara's (monkey's) mannerism was lauded in an energetic tillana following Sughreevas victory over Vaali. The highlight was the immaculately executed fight sequence between the brother Vaali and Sughreeva choreographed by Shri. Thiruchelvan. It was heartening to note each participant had enacted two different characters, each better than the other.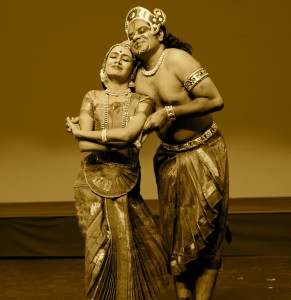 The acclaimed composer Shri Neyveli Santhanagopalan set music and lyrics in Tamil that went hand in hand with the choreography. Tunes to the famous Thirada Villayatu Pillai or creatively using S M M swaras to ask if there is anyone who can parallel Vaali's strength were some of the gems among the compositions. The performers were greeted to a standing ovation at the end for their outstanding performance and heartfelt to support for such noble cause.
Additional AIM for Seva performances events such as this are planned for the future here in San Diego.  We ask on behalf of the hundreds of children benefitting by the tireless work of the volunteers of AIM for Seva to please consider donating generously to continue this invaluable work.  Donations can be made year-round at the San Diego AIM for Seva website.
We also welcome new volunteers who can help us organize future events. Please contact Kavita Rajaratnam at kvraj64@gmail.com to volunteer.  Also, join us on the San Diego Aim For Seva Facebook page. Our goal is to create a strong San Diego base to support AIM for Seva, thereby giving every child in rural India their right to free education against all odds.
For more information and to see inspiring videos of the good work AIM for Seva is doing see the original AIM for Seva San Diego announcement, or visit the  AIM for Seva national website.

DONATE at the San Diego AIM for Seva website.
LIKE San Diego Aim For Seva Facebook page